Copyright © 2023
Barnel International, Inc.



Trademark & Patent Notice
Privacy Policy

Professional Loppers
This catalog page is intended to be viewed online and may not be printed. Please view this page in your browser at barnel.com. If you are a distributor and would like a printed or PDF catalog, please contact us at 1 503 291-1400 or by e-mail to info@barnel.com.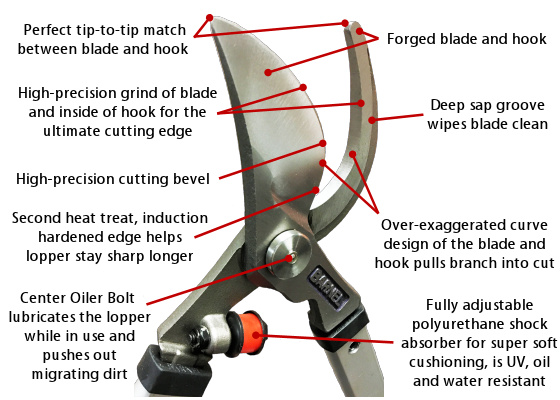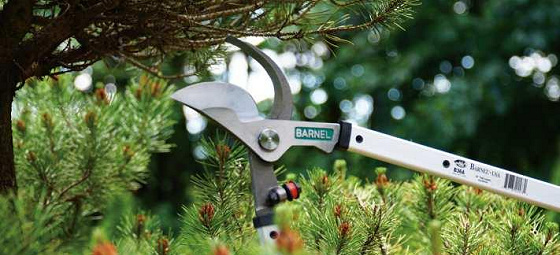 | | | |
| --- | --- | --- |
| Innovative Cushioned Bumper System for Anvil Series | | |

W = Oval American Hickory Handles


A = Extruded Aircraft Alloy Aluminum Handles
with clear anodize finish
Horticultural
Double Bumper "H"





V24A




Click for icon descriptions

Model

Description

A26A

•

•

•

•

2" (50mm)

26" (67.5cm)

44.2oz (1255g)

Anvil

A32A

•

•

•

•

2" (50mm)

32" (82.5cm)

49.0oz (1390g)

A36A

•

•

•

•

2" (50mm)

36" (93cm)

52.2oz (1480g)

B26A

•

•

•

•

2 1/2" (60mm)

26" (66cm)

41.9oz (1190g)

Landscape
/ Tree

B28A

•

•

•

•

2 1/2" (60mm)

28" (71cm)

43.5oz (1235g)

B30A

•

•

•

•

2 1/2" (60mm)

30" (76cm)

45.1oz (1280g)

B32A

•

•

•

•

2 1/2" (60mm)

32" (81cm)

46.7oz (1325g)

B36A

•

•

•

•

2 1/2" (60mm)

36" (91.5cm)

49.9oz (1415g)

B28W

•

•

•

2 1/2" (60mm)

28" (71cm)

38.8oz (1100g)

B32W

•

•

•

2 1/2" (60mm)

32" (81cm)

42.1oz (1195g)

B36W

•

•

•

2 1/2" (60mm)

36" (91.5cm)

45.4oz (1290g)

OR26A

•

•

•

•

2" (50mm)

26" (66cm)

40.4oz (1145g)

Orchard


OR28A

•

•

•

•

2" (50mm)

28" (71cm)

41.9oz (1190g)

OR30A

•

•

•

•

2" (50mm)

30" (76cm)

43.5oz (1235g)

OR32A

•

•

•

•

2" (50mm)

32" (81cm)

45.1oz (1280g)

OR36A

•

•

•

•

2" (50mm)

36" (91.5cm)

48.3oz (1370g)

OR28W

•

•

•

2" (50mm)

28" (71cm)

37.2oz (1055g)

OR32W

•

•

•

2" (50mm)

32" (81cm)

40.4oz (1145g)

OR36W

•

•

•

2" (50mm)

36" (91.5cm)

43.6oz (1240g)

H16A

•

•

•

•

1 1/2" (40mm)

16" (40.5cm)

29.3oz (830g)

Horticultural
Double Bumper

H20A

•

•

•

•

1 1/2" (40mm)

20" (51cm)

32.4oz (920g)

H24A

•

•

•

•

1 1/2" (40mm)

24" (61cm)

35.6oz (1010g)

H26A

•

•

•

•

1 1/2" (40mm)

26" (66cm)

37.2oz (1055g)

H30A

•

•

•

•

1 1/2" (40mm)

30" (76cm)

40.4oz (1145g)

H20W

•

•

•

1 1/2" (40mm)

20" (51cm)

26.4oz (750g)

H24W

•

•

•

1 1/2" (40mm)

24" (61cm)

29.3oz (830g)

V16A

•

•

•

1 1/2" (40mm)

15 1/2" (39.5cm)

27.9oz (790g)

Vintage
Horticulture

V20A

•

•

•

1 1/2" (40mm)

19 1/2" (49.5cm)

30.0oz (850g)

V24A

•

•

•

1 1/2" (40mm)

23 1/2" (60cm)

32.1oz (910g)