Copyright © 2023
Barnel International, Inc.



Trademark & Patent Notice
Privacy Policy

Telescopic Ultra Reach®
Pruners and Loppers
This catalog page is intended to be viewed online and may not be printed. Please view this page in your browser at barnel.com. If you are a distributor and would like a printed or PDF catalog, please contact us at 1 503 291-1400.



B168-2S
Tiger Tooth Saw Blade included
with B188Z4-6 & B188Z6-10

B188F2

B188F4

B188F7

B188Z4-6

B188Z6-10
LOP.CLIP.SAW.SNIP!®
B188 Series Features:
Ultra lightweight extruded aluminum construction
Hard Chrome blades with branch removal hook
Center oiler bolt promotes continuous lubrication
Pole hand comfort grip, rotates on the pole
Inlaid TPR handle, rotates 180 degrees on pole
Cut and hold feature with special spring mechanism automatically adjusts for various sized cuts, can be removed if desired
Telescopic pruners include easy mount Tiger Tooth / Tiger Claw® tri-edge saw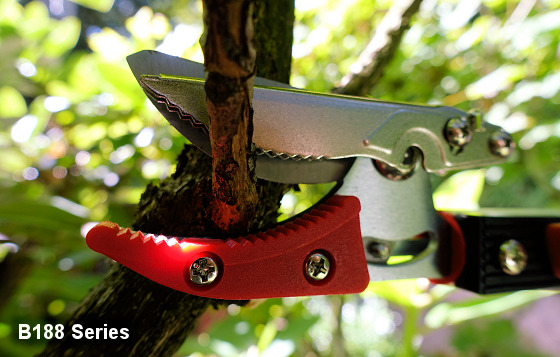 B88T

B88-S

Shoulder Strap

included w/ B88T Ultra Reach® Lopper
B88T Features:
Adjustable shoulder strap for weight distribution
TPR comfort grips
Center oiler bolt for lubrication
Non-stick coated blade with branch removal hook
Ultra lightweight extruded aluminum construction
Quick connecting telescopic extensions over a single push button
Click for icon descriptions

Model

Description

B188F2

•

•

•

•

•

5/8"
(16mm)

24 1/2"
(62cm)

14.5oz
(410g)

2' Fixed Length Cut-n-Hold Pruner

B188F4

•

•

•

•

•

5/8"
(16mm)

48 1/2"
(123cm)

19.5oz
(555g)

4' Fixed Length Cut-n-Hold Pruner

B188F7

•

•

•

•

•

5/8"
(16mm)

80 1/2"
(205cm)

26.3oz
(745g)

7' Fixed Length Cut-n-Hold Pruner

B188Z4-6

•

•

•

•

•

5/8"
(16mm)

49-79"
(125-201cm)

30.7oz
(870g)

4-6' Telescopic Cut-n-Hold Pruner with Saw

B188Z6-10

•

•

•

•

•

5/8"
(16mm)

71-119"
(180-302cm)

39.0oz
(1105g)

6-10' Telescoping Cut-n-Hold Pruner with Saw

B168-2S

Saw included with
B188Z6-10 & B188Z4-6

13"
(33cm)

3.5oz
(100g)

Tri-Edge Saw Blade, fits Telescopic Pruners

B88T

•

•

•

•

1 1/2"
(40mm)

71-95"
(180-241cm)

77.6oz
(2200g)

6-8' Telescopic Lopper, By-pass w/ Strap