Copyright © 2023
Barnel International, Inc.



Trademark & Patent Notice
Privacy Policy

Ratchet Pruners & Loppers

Patented or Patent Pending
This catalog page is intended to be viewed online and may not be printed. Please view this page in your browser at barnel.com. If you are a distributor and would like a printed or PDF catalog, please contact us at 1 503 291-1400 or by e-mail to info@barnel.com.
Ingenious ratcheting action for easy, assisted cutting
Nylon fiberglass liner for a clean finish on every cut
Replacement parts available

B525


B777

How to use a ratchet pruner / lopper:
1. Open pruner or lopper all the way.
2. Place pruner or lopper on the subject branch, as far into the jaw as possible.
3. Squeeze the handles together, advancing the blade through the branch with minimal effort.
Once you feel increased handle resistance, STOP squeezing.
4. Open the shear slightly until you hear a definite CLICK. Again STOP and do not open the blade any further.
5. Squeeze again, repeating steps 3 and 4 to completely finish the cut. Do not pull or rip fibers.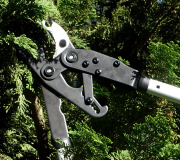 High carbon steel blade
Push button adjustable telescoping extruded aluminum handles (BR7000)
Dual self oiling center bolts (BR7000)
TPR ergonomic non-slip grips
Smooth and efficient ratcheting action
Replacement parts available
Click for icon descriptions

Model

Description

B777

•

•

•

•

1"
(25mm)

7 1/2"
(19cm)

7.0oz
(200g)

Deluxe Ratchet Pruner with Strap

B525

•

•

•

5/8"
(16mm)

6 1/2"
(16.5cm)

4.4oz
(125g)

Light Weight Straight Blade Mini Ratchet Pruner (Nylon-Fiberglass)

BR2700

•

•

•

1 1/2"
(40mm)

18"
(46cm)

22.2oz
(630g)

Curved Blade Mini-Ratchet Lopper (Nylon-Fiberglass)

BR7000

•

•

•

•

2"
(50mm)

26 3/4 - 38 1/2"
(68 - 98cm)

63.8oz
(1810g)

Deep Hook Telescopic Ratchet Lopper